If you had asked me a few months ago how I feel about Facebook, I would have said that it's probably the biggest time-eater in the world. However, within the last few weeks, I changed my mind quite drastically.
Believe it or not, but know I think it's one of the best language learning tools in the world. Make yourself comfortable my friend – you're in for the story.
Facebook, or There and Back Again
There
So  About 4 years ago I was a full-blown Facebook junkie. I had to get my fix at least a few times a day. My hands would shake if I couldn't. "I need more cat picture! I need more updates from friends! I need more of everything. Gimme! Arghhh!" So yeah, it was bad.
After some pondering and a lot of hesitation, I finally deleted it. The last straw for me was seeing a picture of my friend's dinner with the following comment – "Yum, yum".
I was a broken man. Rehab was excruciatingly hard for first 3 weeks. But soon thereafter my world became more peaceful. I felt less anxious and overwhelmed. The sun was shining brighter. And so on.
And back again
But I CAME BACK. I felt dirty. As if I was treading on everything I value. At least this time, I knew my time was under control because of the software I use to block the time-sucking websites.
Being a relative optimist, I decided to look at the bright side of my Facebook presence. I started participating in the language groups. I also refreshed contacts with some of the old friends.
Again In The Comfort Zone
At about the same time I was bothered by the fact that I don't read enough. In other languages that is. I tallied up that per average I read between 300-1000 pages per week.
Sadly, over 95% of all the things I read is in English. What a wasted opportunity! I could be learning so many other languages if only I started reading in them. I knew that it had to change.
So I started with the question.
Why am I reading so much in English?
The answer came right away – because it's convenient. Because it's so damn convenient. I've subscribed to newsletters of over 15 websites. All in English. They come straight to my e-mail box. No effort whatsoever is required from my side.
What's more, I read English books because
a) there are more of them than in any other language I know
b) because I got stuck in my comfort zone
Does it ring a bell? Do you find yourself consuming most of the media in just one language?
Then read on!
I knew that the first thing I had to do was to minimize the required amount of energy to take action.
Minimizing The Energy Required To Take Action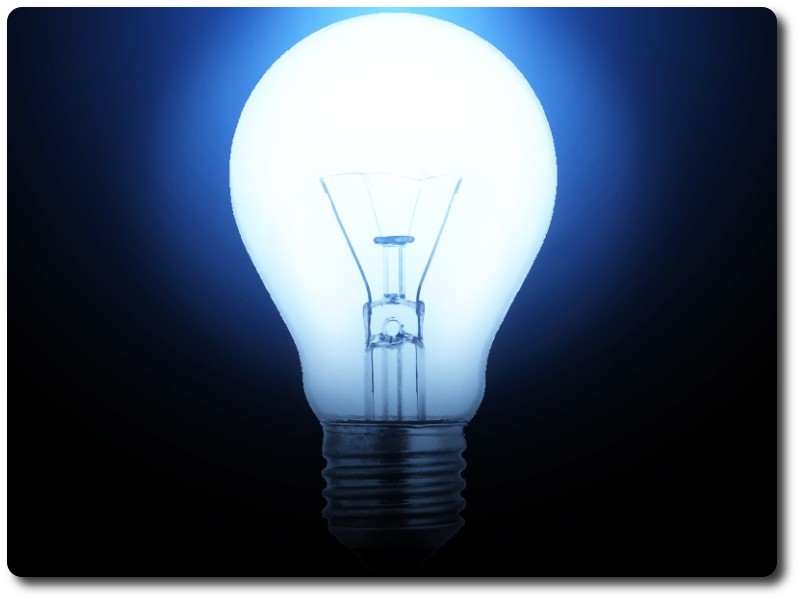 Let's say that you want to take up running.
You promise yourself that you'll do it 3-4 times per week for at least 20 minutes (a great example of a SMART goal!
Noble thought, my friend! However, it seems that no matter what you do, you can't seem to get a grip on yourself. Every morning you have to look at yourself in the mirror with disappointment in your eyes.
You really do want to do it. It's no lie. But you're tired. Or it's too cold. Or can't find your shoes. Or don't know where you'd like to run. There are too many decisions you have to make before you go out for a run. That's why it's so hard to get off your butt.
Now imagine a different situation. This time, you've planned all the details beforehand.
What's more, you go to bed with your track-suit on and leave your sneakers by the bed.
That's a commitment! As a result, the initial energy required to take action is drastically minimized.
Why Use Facebook For Language Learning?
936 million daily active users on average (for March 2015)
It means that most of us use it almost every day.
That, in its turn, means that you have already developed a habit of using it.
For many of us, it's almost like an addiction.
over 30 million companies with active pages
Posts and news in hundreds of languages are at your fingertips!
Timeline provides you with a stream of never-ending pictures and posts.
The only thing you have to do is scroll down.
All these things make FB a perfect tool for language learning!
Now, the question is – how to do it?
Unfollow Most Of Your Contacts On FB
"Give me a break, do I really have to?!"
Of course, you don't have to. I haven't unfollowed ALL my friends. But I was merciless in weeding out people who appear on my Timeline. I didn't do it randomly. It was a process aided by the following questions:
Am I interested in a life of this person?
Do I believe this person has something interesting to say?
I unfollowed every person who didn't fit the criteria.
In fact, I unfollowed about 98% of people who are among my friends.
Tough Decisions
It was hard – believe me. There is always this treacherous voice at the back of my head.
"Come on! Don't you wanna know what's going on in X's life?!" Yes, the voice of the ever convincing Fear Of Missing Out.
"Maybe it's right. Maybe I'll miss something important? What if the Ebola Zombies invade Europe and I won't know it!"
What if …x?! What if …Y?
That's a risk you and I have to take. The truth is that you are behind the life's wheel and you're choosing the direction. Do you really want to let all that fluff and bullcrap into your life?
How many cat pictures can you watch?
Do you really care how somebody's baby looks like if you haven't even called this person in a few years?
Be brutally honest with yourself and get down to work.
What If I Can't Do It?
Ok, maybe you're not ready yet. I don't blame you. I know it was damn hard for me.
Luckily, there is the option no 2.
Register a new FaceBook account and use it exclusively for language learning. Although, it's better to use your main FB account. You might be asking yourself now – why all the effort?
What's the next step"?
Start Liking And Following Pages!
By now your Timeline should look, more or less, like a wasteland.
From now on, all the pages you like will start appearing on your main FB page!
Here are some ideas of the pages you might want to follow if nothing comes to your mind at the moment.
All the biggest newspapers have their FB pages. Choose the ones you're interested in and follow them! They update their pages many times per day.
They will provide your Timeline with an ongoing flood of news.
Most popular FB pages in …
I like this method since usually, the biggest pages are also the ones which care deeply about the quality of posts they share. Google "most popular FB pages in x (e.g. Russia, Turkey)" to find them.
Use the FB search field and try to type in words like "jokes", "productivity". Of course in your target language!
This way your Timeline will be full of posts of all kinds.
This way, you'll make sure that the language you take in is diversified enough to guarantee you continuous growth!
Here is a small snippet of my 2nd FB account which I use for reading French and Russian news.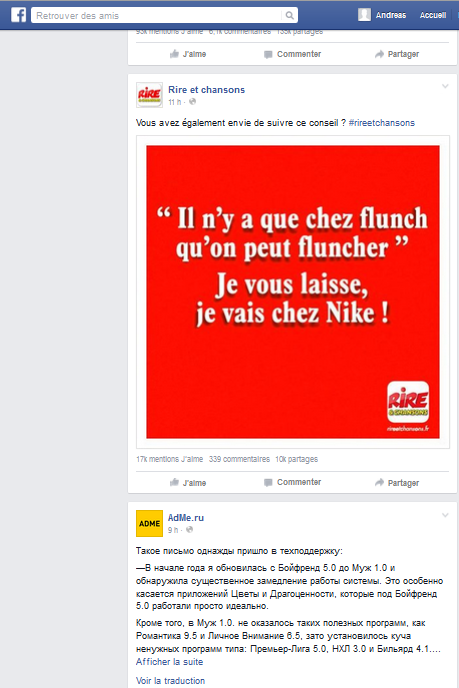 The Final Touch
You have come the long way, congratulations! There is just one more thing you can do to get the most out of using FB.
Change the default language settings to any language you're learning. It'll only be weird for a couple of days. After that, all the writings and words become normal, or even boring.
What's more, you'll see them many times per week.
Thanks to this, you'll learn them in no time!
Now, I have a question for you – have you ever tried to change the default language settings of programmes and/or devices you use to learn a new language?
Let me know in the comments or via e-mail!