Finally, after some delay (due to my laziness in writing!) I'm proud to present the results and final thoughts concerning my language mission. If you haven't been following my struggles, you can find all the details below.
The purpose of the mission
My mission had a dual purpose.
First of all, I wanted to demonstrate that it is perfectly possible to learn REALLY FAST. assuming of course that you
use some mnemonics
disregard almost all the advice you've ever heard in your life regarding (language) learning, but more about that later
Secondly, I wanted to ENCOURAGE YOU to think more seriously about your learning; to be BETTER. To question what you know. My learning philosophy is simple – experiment to see what does and what doesn't work.
To put it brutally – if a horse is sick, you don't pretend that everything is fine, try to ride or show it to your friends and say "it needs a little bit more time to get better, that's all". No. It won't get better. You take a shotgun, lead a horse behind a barn and put it out of its misery. It's that simple.
It's simple. But it's not easy. If you've been using the same ol' methods for years, it's hard to kiss them goodbye. I know.
Time Restrictions
Start date: 1st February 2015
End date: 2nd March 2015
Total time: 30 days
Main Goals of The Mission
Memorize 100 words per day for 30 days in the row
Get to at least a B1 level
Assess my language skills
My Learning Materials
Money Spent
About 3$. That's the cost of my pocket dictionary.
Disclosure
It's my duty to mention that I had following pre-exisitng advantages before the start of my mission:
I could already speak 8 languages
Including 2 Slavic languages; one of them is my mother tongue – Polish. It simply means that I could understand, right away, all the grammar constructions I stumbled across.
Also, the vocabulary between these languages is quite similar.
And finally, due to the language similarities, my listening skills were at quite a high level from the very beginning.
I had a profound knowledge of mnemonics
I've been experimenting with my own mnemonics systems for years and I've created the ones which work great for me.
Update 2017: A couple of months after this mission ended, I had to relearn all the words. Read more about severe limitations of mnemonics.
The Difficulty of Czech
You can read more about it right here.
The Time Spent On The Mission
Altogether I spent about 140 hours during the duration of my mission. What was frustrating is that I had to spend about half of that time preparing the vocabulary lists!
Results
Results of the first test: level C1.1
Here are some more details:
The test consists of three parts.
There is a time limit of 30 minutes for each part.
The second and third parts can be entered only if you reach a minimum score.
The minimum score for entering part 2 is 40 points.
The minimum score for entering part 3 is 70 points (score in part 1 + part 2).
I managed to complete the test in 33 minutes and went through all 3 parts of it.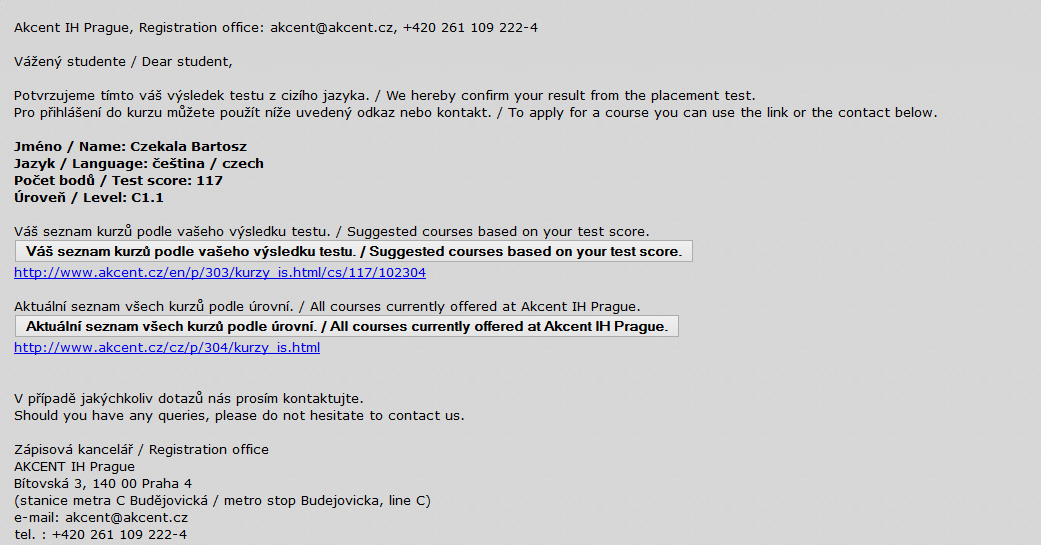 Results of the second test: level B2
Here are some more details:
Make sure you do not spend more than 40 minutes on doing the test.
You should not use any dictionary or any other help so that the result accurately reflects your knowledge.
Stop filling in and submit the test as soon as the questions are too difficult for you (Do not guess the answers).
If you are a complete beginner, there is no need to do the test.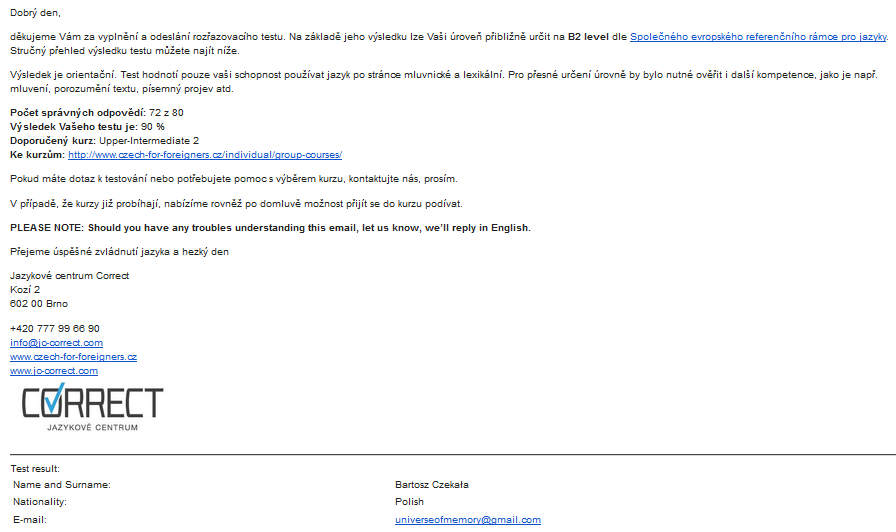 Both tests concentrated only on the grammar use and reading comprehension. If you don't know what these silly letters mean – don't worry. Simply read Common European Framework of Reference for Languages.
The Weaknesses of The Self-Assessment
Generally, the overall performance is calculated by averaging the scores you achieve in Reading, Writing, Listening, Speaking and Grammar.
I had a chance to test all of them (except writing skills). However, some language competences had to be assessed by myself, not by a qualified teacher. It leaves definitely a lot of room for personal bias but it was impossible to avoid considering the nature of such an undertaking.
On a side note, I've been working as a language assessor for some time now, so I can only hope that my judgment is precise enough.
Did I Succeed?
Yep, I feel that I accomplished all the main goals of my mission:
Number of words
Altogether I've memorized about 3100 words. About 2860 of them are the words from my ANKI list, the rest of them are noted separately on a few pieces of paper.
Including my knowledge of the rules of word formation, my total vocabulary size should amount to about 4,5 – 6,5k words.
Level
Considering the results of official and unofficial language assessment, I would assess my level as B1.2. In other words – somewhere between B1 and B2 level.
Articles Related To The Mission
If you haven't had a chance to do it already, here are some articles (more to come!) describing my approach to learning Czech (or should I say – learning in general).